Bob Proctor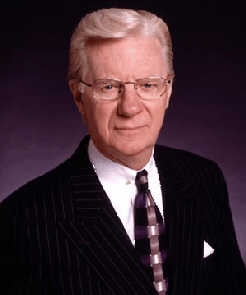 Bob Proctor is a world-renowned life coach and personal consultant that has been a popular topic, not only among businesses and employees, but also individuals in their personal lives. You may have heard his name on Oprah or through his reputation as one of the dynamic teachers in the famous book The Secret.
Bob Proctor has been in business for himself since 1968 as a motivational speaker and a trainer to people interested in becoming life coaches, or to those who just want a new perspective. He offers classes and seminars that are centered on the concept of "The Law of Attraction" with the intention of improving people's quality of life. He is affiliated with many joint ventures.
Bob Proctor was not always successful. In his younger years he dropped out of high school and bounced around to numerous mundane dead-end jobs. He claims it took him nine years to change his thought patterns into having a positive and productive outlook on life. After becoming inspired by Think and Grow Rich, by Napoleon Hill, Bob became more in-tuned to what makes a person successful. He is now a self-made millionaire through teaching "The Law of Attraction".
If you are into inspirational speeches that will teach you how to alter your thinking in order to improve your business, then Bob Proctor's information might be beneficial to you. His most famous published books are The Science of Getting Rich, and Life Success Consultants. All of his writings discuss "The Law of Attraction" and how important it is to realize that you become what you think about. If you were raised in poverty and poverty is all you dwell your thoughts on, then you will repeat the cycle, just as he had when he was younger bouncing from bad job to bad job. If you change your thought to success, then your focus changes, and your life gains a positive direction. Bob teaches how your life reflects your thoughts. He believes everyone is capable of either being positive or negative in all aspects of life. He identifies how you can correct your personal and business weaknesses by having a positive mental image of what is to come.
Bob's philosophical business theories have proven to work for thousands of companies around the globe including; Metropolitan Life, Hayes Wheels, IBM, Keller Real Estate, Malaysia Airlines, and Prudential Insurance. Prudential Insurance was the company that first got him known with positive feedback given by over 20,000 inspired sales people.
Although Bob Proctor does not get specific on personal details of improving your business, I still think his information is entertaining. Since he speaks to such large audiences he cannot address specific weaknesses within your own company but he has useful general advice. Keep this in mind before paying for his material.
The best information in his teaching is that he promotes always having multiple streams of income to truly be wealthy. He teaches that you do not have to trade time for money. That is what the masses all do and is why people find themselves stressed out and confused about who they are. He claims that is a "fools game because it has got an inherent problem. It's called saturation. You run out of time." I agree with his advice. The secret to earning a lot of money is to multiply your time by setting up multiple sources of income.
"FREE" INTERNET MARKETING COURSE
Previously Confidential Internet Cash Formula Exploits *Proven Secrets* Behind Making A Fortune Online Without Spending A Dime On Paid Advertising! This Amazing Course Is Chock Full Of Super Advanced Training Developed By Two Online Marketers That Consistently Generate As Much As $7,678,397 Each Year!!
You Can Get Instant Access To The Whole Thing * ABSOLUTELY FREE! * Just CLICK HERE And Get This No-holds Barred Step By Step Blueprint Stuffed Full Of The Most Ultra Advanced, Job Crushing Techniques That Pump So Much Money Out Of The Internet, You Simply Won't Believe It !"
---
---
---