Brig Hart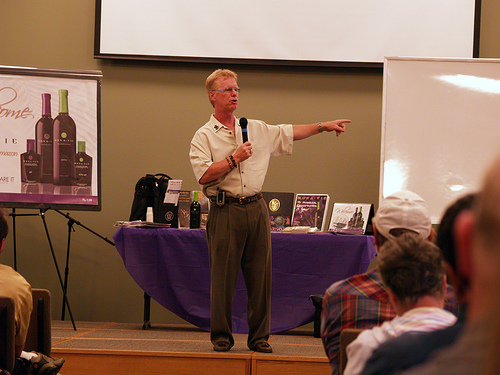 Drink it, Feel it, Share it. Simple, isn't it? But that's not the whole story. For those who are looking for a home-based business idea by seeking help from those who have been successful, this might be a good chance to learn that all that glitters is not gold. The Brig Hart product MonaVie - a wine-like drink - has gained widespread popularity in recent years. According to him, his guide can teach individuals to become financially independent by following some simple steps. Well, let's find out if those steps are actually simple enough to be pursued.
Brig Hart invites everybody to taste Monavie which is a "heart healthy blend" and lowers cholesterol. As a matter of fact, this drink is made to be a step towards better health. And guess what? It can also serve to be a money-making product for you. All you have to do is gather friends and family members who would be willing to taste something that looks like wine and contains a blend of healthy fruits including Brazilian berry, cupuagu, camu camu, aronia, acerola, blueberry, bilberry, and pomegranate. Except for a few familiar names, these fruits sound alien to me. But as it turns out, they do exist.
If you don't believe me, search for "camu camu" on Google and you will find out that it's an anti-depressant and anti-viral rainforest fruit. These fruits are also known as superfoods and that's why they have been added to this drink to make it a supportive medicine for your cardiovascular system. While all this sounds cool, are you actually ready to become a part of their money making scheme?
Brig Hart's Total Support, Total Success system requires that you first pay them $39 to get started or to become a member. Then you become eligible to buy their amazing product that goes by the name "MonaVie" at a wholesale price. From here onwards you are on your own on the money-making road your mentor helped you to get on for a few dollars, that's all. You have to market the product yourself by using whatever skills you possess and make people buy it.
In my humble opinion, if somebody manages to invent something that actually is amazing, why would they want others to help them sell it? The product should generate sales itself. Having said that, if somebody like you has excellent marketing skills why would you be wasting your time selling someone else's product? So, don't be a fool and just ignore such attractive business opportunities. I must say, they are attractive. Why else would thousands of innocent people from all over the world fall prey of such money-making ventures?
If you are successful in bringing people to your home and convincing them to drink something that contains alien ingredients, and then actually managing to sell a few bottles to them, hats off to you. Even if you did succeed the first time, are you going to bring a new set of friends the next time to sell this stuff to? I suppose not.
"FREE" INTERNET MARKETING COURSE
Previously Confidential Internet Cash Formula Exploits *Proven Secrets* Behind Making A Fortune Online Without Spending A Dime On Paid Advertising! This Amazing Course Is Chock Full Of Super Advanced Training Developed By Two Online Marketers That Consistently Generate As Much As $7,678,397 Each Year!!
You Can Get Instant Access To The Whole Thing * ABSOLUTELY FREE! * Just CLICK HERE And Get This No-holds Barred Step By Step Blueprint Stuffed Full Of The Most Ultra Advanced, Job Crushing Techniques That Pump So Much Money Out Of The Internet, You Simply Won't Believe It !"
---
---
---