Dan Kennedy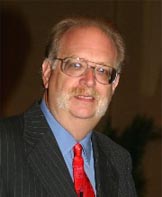 Effective marketing can make any business successful and thriving in a short span of time. While talking about marketing gurus, the name of Dan Kennedy comes to mind who has been quoted as one of today's leading marketing experts. He offers books, courses and seminars with valuable information on how to market your products and services effectively. Some of his books are "How to Make Millions with Your Ideas: An Entrepreneur's Guide", "The Ultimate Sales Letter: Attract Customers Boost Your Sales", and "The Ultimate Marketing Plan: Find Your Hook Communicate Your Message Make Your Mark".
Although his books have received positive feedback, some people are of the opinion that he tries to sell his other products through his persuasive writing. And though most of his books are very reasonably priced, the products he sells are a bit expensive. Since Dan Kennedy is against internet marketing, all his material is about offline marketing. Nevertheless, one only ought to learn the tactics of effective marketing and then apply them anywhere they want. So, overall the strategies and tips offered by this marketing guru are helpful and constructive for marketers and business owners.
Dan's products other than his books and courses usually cost thousands of dollars. The products are listed under several categories including Public Speaking, Information Marketing, Internet Marketing, Copywriting, and Consulting. He also produces infomercials to promote his products and services. Some people say he is hard to get along with and is quite blunt and impolite. But still he has been successful in making quite a number of clients who are happily doing business with him. For private consultation, Dan charges $850 an hour. Wow! There sure is a lot to learn from this marketing guru.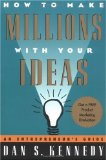 His book "How to Make Millions with your Ideas" is definitely a must-read. Available only for $9.75, this book will teach you how to turn your simple ideas into money-making ventures. There is sound and practical information contained in this book which can be applied to any kind of business plan. Dan Kennedy is still earning a lot through his coaching sessions on direct marketing. The man has got talent to persuade others that his ideas actually work. Many people have found his books loaded with helpful tools and realistic examples. However, there is one setback: the guy hates the internet and tries to convince people to conduct offline business at all costs.
Many people may not like this idea of ignoring online business opportunities because there are millions of people who are earning huge cash through online marketing and e-commerce. It's hard to imagine anyone, in today's information age, who does not spend at least 2 or 3 hours of their time on the internet. It can be safely said that the internet has become an important and inevitable part of our lives and therefore online marketing definitely has potential, provided you do it right. We may also point out that Dan Kennedy has ideas that are somewhat outdated, but still they can be useful if we apply them according to today's business demands and requirements.
"FREE" INTERNET MARKETING COURSE
Previously Confidential Internet Cash Formula Exploits *Proven Secrets* Behind Making A Fortune Online Without Spending A Dime On Paid Advertising! This Amazing Course Is Chock Full Of Super Advanced Training Developed By Two Online Marketers That Consistently Generate As Much As $7,678,397 Each Year!!
You Can Get Instant Access To The Whole Thing * ABSOLUTELY FREE! * Just CLICK HERE And Get This No-holds Barred Step By Step Blueprint Stuffed Full Of The Most Ultra Advanced, Job Crushing Techniques That Pump So Much Money Out Of The Internet, You Simply Won't Believe It !"
---
---
---