Gary Halbert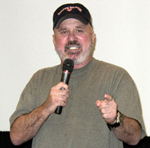 When we read the profiles of internet gurus we find that only a few of them are gifted with the skill of persuading others through convincing online copywriting. Late Gary Halbert is one of these people who made millions simply by making people subscribe to his newsletter. Thousands of subscribers used to pay $195 annually to receive his newsletter and many of them also bought lifetime membership. All this happened back in 1986. He is also known as the legendary copywriter and "Prince of Copy" in today's internet marketing world. If you want to improve your writing skills, don't forget to check out The Gary Halbert Letter.
This copywriting guru extended his copywriting services to many companies during his life and was one of the recognized writers of sales letter and ads. It is hard to imagine a man of such credibility could ever be called a fraud but it seems greed got the better of him and he started doing some illegal business. As a result he was sentenced to prison. After serving his sentence he again got actively involved in seminars and lectures on effective marketing strategies. Despite his shortcomings, the man can undoubtedly be called one of the best copywriters in the world.
According to many people, Gary's writing style is provocative and fascinating. Probably that's what makes his letters appealing and innovative. Today there is a sea of information available on effective marketing skills and strategies, but if you want to see an example of perfect sales copy, get your hands on one of the Gary Halbert's letters. People say his writings are inspirational and encouraging. Each letter written by him has some unique attributes and will definitely prove to be extremely helpful in writing your own sales letters.
Gary authored many books including "How to Make Maximum Money in Minimum Time" which received tremendous praise and approval. In this book he talks about 16 cash-producing secrets which can make a person rich in very little time. The book is available for $49.95. If you are looking for material on direct response marketing, do check out Gary's newsletters. In almost all his letters you will find references to other author's excerpts along with interesting humorous quotations which make the letters even more likable and engaging. The titles of his letters are also quite interesting and we can all learn quite a lot from all his writings.
Even though many people give negative remarks about Gary Halbert, we can still learn a lot from his creative writing. Some people are of the opinion that he gets people to buy products and services the "illegal" way. But no matter what he writes, he cannot possibly force people to do whatever he commands. Now all his material, including the famous Gary Halbert Letter, is available for free. So, I think we should let the old man rest in peace and instead of criticizing him now that he is no longer among us; we should try to highlight only his positive attributes.
"FREE" INTERNET MARKETING COURSE
Previously Confidential Internet Cash Formula Exploits *Proven Secrets* Behind Making A Fortune Online Without Spending A Dime On Paid Advertising! This Amazing Course Is Chock Full Of Super Advanced Training Developed By Two Online Marketers That Consistently Generate As Much As $7,678,397 Each Year!!
You Can Get Instant Access To The Whole Thing * ABSOLUTELY FREE! * Just CLICK HERE And Get This No-holds Barred Step By Step Blueprint Stuffed Full Of The Most Ultra Advanced, Job Crushing Techniques That Pump So Much Money Out Of The Internet, You Simply Won't Believe It !"
---
---
---