Keyword Elite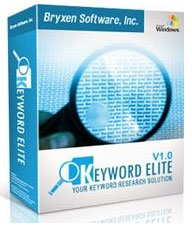 In order to be successful on the internet you carefully need to research your target keywords to attract potential customers to your site. Many tools and software are available that assist in selecting those keywords that will help in generating maximum sales and leads. Keyword Elite by Brad Callen is one such tool. It has been reviewed as one of the excellent tools for those who practice pay per click advertising. The software comes with a user-friendly interface which is quite easy to use. Brad also offers a money-back guarantee with this product and if you are not satisfied with its performance you can have your money back within 58 days after purchase.
When you launch Keyword Elite it gives you five options to choose from: analyze pay per click listings, create a keyword list, select a keyword list, analyze keyword competition, and spy on Adwords competition. Brad Callen himself is an online marketer and he knows just exactly what tools are required in order to extract the most useful keywords. This software therefore has a personal touch which you will also notice while working on it. It provides a list of search engines from where each keyword was extracted along with website URL and bid amounts for analysis of pay per click listings.
Keyword Elite is affiliated with top keyword selection tools, Wordtracker and Keyword Discovery. If you have subscription with these tools you can also see their data in the KE software. Search volume is extracted from Yahoo Keyword Suggestion Tool and a number of other options are provided, such as number of Adwords campaign, top bids in Enhance and Miva (e-commerce software programs), and Adwords CPC for broad, phrase and exact keyword matching. By using the feature "Create a keyword list", you can generate hundreds of keywords extracted from top search engines including meta tags and misspelled words.
By using "Analyze keyword competition" in Keyword Elite, you can see how many sites are competing against you along with page rank of those sites. In addition to this, you can also see where exactly in those sites the keyword has been placed. If you have a high competition, you may want to know how the top 10 sites in Google or Yahoo are doing it and then optimize your site accordingly. Because of these extra features which no other keyword selection tool offers, this software is worth checking out.
Keyword Elite has been carefully planned and developed with a nice interface and extremely useful features. Plus its ability to extract data from Wordtracker and Keyword Discovery makes it even more appealing. It is equally effective for search engine optimizers, Adsense publishers, and pay per click advertisers. However, if you are a beginner in the world of keyword research you may want to try out some simpler tools which are available for free. This software is for those who understand the technical jargon associated with selecting keywords and analyzing PPC competition.
Keyword Elite software is available online for a one-time cost of only $176. Forget about monthly or yearly subscriptions; buy this one tool that has everything you need to grow your online business.
"FREE" INTERNET MARKETING COURSE
Previously Confidential Internet Cash Formula Exploits *Proven Secrets* Behind Making A Fortune Online Without Spending A Dime On Paid Advertising! This Amazing Course Is Chock Full Of Super Advanced Training Developed By Two Online Marketers That Consistently Generate As Much As $7,678,397 Each Year!!
You Can Get Instant Access To The Whole Thing * ABSOLUTELY FREE! * Just CLICK HERE And Get This No-holds Barred Step By Step Blueprint Stuffed Full Of The Most Ultra Advanced, Job Crushing Techniques That Pump So Much Money Out Of The Internet, You Simply Won't Believe It !"
---
---
---