SubmitEdge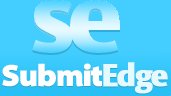 SubmitEdge is a Search Engine Optimization (SEO) firm that offers various SEO solutions including one-way link building, directory submission, search-engine friendly website design, content writing, and article submission. SE also offers an affiliate program to online publishers who would like to earn money through affiliate marketing with 20% base commissions and 10% two-tier earnings.
The firm has over 60 staff members who manually handle all link building and directory submission requests by clients. The rates are quite reasonable with 100 directory submissions offered for only $15. In addition to this, SubmitEdge also offers various bonuses like free detailed reports after submission is complete and bulk discounts.
If you want your site to get high search engine ranking, then try the services of this company and you will not be disappointed. Although there are many other options to do the task like hiring a freelance worker but mostly you need to chalk out a plan yourself and search for directories to submit your link to. On the other hand, SubmitEdge handles everything for you and provides 24-hour customer service in case you have questions regarding your submission. SE also provides a complete list of directories where your link will be posted. These sites are categorized according to their page rank.
SubmitEdge offers unique services like Squidoo lens creation with promotion, press release distribution, and DMOZ listing. In addition to this, services specific to SEO are also offered, such as keyword research, XHTML validation, rank tracking, and PPC management. All services are offered at very competitive rates. The company is excellent for beginners as there is a lot to learn ranging from SEO web design and article writing to using various SEO tools and building links. SE also provides useful information on why social bookmarking is important and gives a complete list of popular social bookmarking sites with PR2 through PR9.
SubmitEdge has received positive feedback from all its clients and they are quite happy with almost all services provided by SE. The best thing about this SEO firm is that it is affordable. Other SEO companies usually charge thousands of dollars to get a simple job done. Another advantage of SE is that it provides a list of free SEO tools that are quite useful, such as SEO checklist, Page Strength, Google Trends, Alexaholic, Backlink Check Tool and many others. In addition to this, there is a forum where all members can share their views and discuss problems related to search engine optimization and much more.
In the area of content writing, SubmitEdge offers four services: creative content writing for SEO, press release writing, article writing for SEO, and proofreading. The rates are $20 for 500 words, $30 for 1000 words and so on. With these minimal fees you can be assured that the work done will be of high quality without any grammatical and spelling mistakes.
So, all in all Submit Edge is a unique firm offering quite a number of services in the area of search engine optimization. In addition to this, there is an attractive affiliate program for those who want to start their own home-based internet business.
"FREE" INTERNET MARKETING COURSE
Previously Confidential Internet Cash Formula Exploits *Proven Secrets* Behind Making A Fortune Online Without Spending A Dime On Paid Advertising! This Amazing Course Is Chock Full Of Super Advanced Training Developed By Two Online Marketers That Consistently Generate As Much As $7,678,397 Each Year!!
You Can Get Instant Access To The Whole Thing * ABSOLUTELY FREE! * Just CLICK HERE And Get This No-holds Barred Step By Step Blueprint Stuffed Full Of The Most Ultra Advanced, Job Crushing Techniques That Pump So Much Money Out Of The Internet, You Simply Won't Believe It !"
---
---
---