Traffic Travis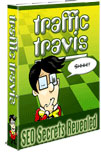 Traffic Travis by Affilorama is free SEO software which provides many features for improving the SEO attributes of your website and to make it more search engine friendly. It's an excellent tool for beginners because it is available for free and is quite easy to use. It provides various SEO-related features like keyword research, PPC manager, ranking checker, and optimization advice. The software is unique in the sense that you don't require a separate keyword selection tool with it. Although it does not have any advanced or up-to-date SEO features for expert webmasters, it still is quite useful for beginners and newcomers in the area of affiliate marketing or other online business opportunities.
By using Traffic Travis you can find keywords that are the most relevant to your business and are profitable as well. In addition to this, you can also see what your competitors are doing by analyzing their site layouts and other SEO attributes. This way you can design a site which is better than your competitors' and as a result rank high in popular search engines. If you don't know anything about search engine optimization, then use this free tool and you won't be disappointed. With this tool you can also perform historical data analysis of multiple sites at the same time.
The software generates graphical reports of all your search results in an easy-to-understand format. This can save a lot of time you would otherwise have to spend on lengthy calculations. You can check your site ranking on Google and also perform an analysis of your site for a particular keyphrase. Traffic Travis provides a means to see your weak areas and also gives optimization advice to improve those areas. For example, if you forgot to use the main keyword in your meta description, the software will point out that SEO phrase should appear at least once in the description.
The detailed features of Traffic Travis include;
Keyword finder
Page analysis
Backlinks to site
Graphs and reports
Top sites for keywords
Website's keyword list
Most popular keywords
Checking backlinks is also an important part of optimizing for SEO. Traffic Travis provides information like the IP address and anchor text of the sites that are linking to you. This feature can also be used to see which sites are linking to your competitors' simply by entering your competitor's website address instead of your own. This way you can find relevant link partners and also see how they have optimized their sites.
Although Traffic Travis is new as compared to other SEO and keyword research tools, it has all the features one would need in order to find the profitable keywords and see how the competitors are doing it. The best thing about this software is that it is available for free and can easily be downloaded online. Some people may find it less flexible in the context of setting up a complete PPC campaign, but it is an excellent tool for beginners who merely want to select niche topics for their future websites.
"FREE" INTERNET MARKETING COURSE
Previously Confidential Internet Cash Formula Exploits *Proven Secrets* Behind Making A Fortune Online Without Spending A Dime On Paid Advertising! This Amazing Course Is Chock Full Of Super Advanced Training Developed By Two Online Marketers That Consistently Generate As Much As $7,678,397 Each Year!!
You Can Get Instant Access To The Whole Thing * ABSOLUTELY FREE! * Just CLICK HERE And Get This No-holds Barred Step By Step Blueprint Stuffed Full Of The Most Ultra Advanced, Job Crushing Techniques That Pump So Much Money Out Of The Internet, You Simply Won't Believe It !"
---
---
---