XSitePro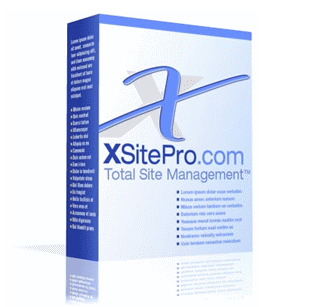 XSitePro is a web building tool designed for beginners. Even if you are completely inexperienced in the field of website development and have no idea how HTML works, you will be able to use this tool quite easily. The software is loaded with powerful tools and features that can be used to create a professional-looking website in no time. In addition to this, the software also offers some search engine optimization tips and tricks to help you build search engine friendly websites. The earlier version came out in 2004 and now the developers have launched version 2 of this great software with cutting-edge functionality and useful features.
XSitePro allows you to develop any kind of website, whether it is intended for selling products or is simply a content-rich site on some niche topic. In addition to this, it is also quite useful for building a professional corporate site for an organization. The interface is easy to use, since it was built with beginners in mind. However, there are tons of advanced features for expert webmasters as well. You can open multiple projects at the same time and work on them simultaneously. Many templates are offered by the software so that you can start building a website right away.
You can easily change background color and font size by using appropriate functions in XSitePro. If you have some knowledge of HTML, you can also view the HTML of your site and make changes there just like other editors, such as Frontpage and Dreamweaver. However, XSP is slightly advanced than these applications as it also incorporates SEO functionality. It provides an ability to enter page keywords and meta tags. After you are finished building a page you can run the SEO Wizard to check how optimized your page is for search engine rankings.
The SEO Wizard basically checks nine elements of your website to see if it really is search engine friendly. These elements include title, description, header1, all headers, all links, all images, top third and complete page. In addition to this, there is functionality to handle content management by using Taskbar Scheduler. This feature allows you to add a huge amount of content step by step according to SEO considerations. Another cool feature provided by this software is the Pop-Up Wizard. If you are building a sales letter page, this feature will come in handy. Furthermore, it is also helpful in increasing members on your mailing list by professional looking pop-ups.
XSitePro offers many other unique and interesting features, like Design Wizards, Email Capture, and Script Management. Moreover, there is a functionality to embed audio within your code and a way to create your own templates using a graphic editor. No need to look for expensive software for building professional websites. This software has it all and is also quite affordable. Whether you are building a website for the first time or you are an expert in the field of web design, this tool will definitely help you create what you want. The XSitePro web building tool is available for only $197.
NOTE: This site is built with Xsite Pro
"FREE" INTERNET MARKETING COURSE
Previously Confidential Internet Cash Formula Exploits *Proven Secrets* Behind Making A Fortune Online Without Spending A Dime On Paid Advertising! This Amazing Course Is Chock Full Of Super Advanced Training Developed By Two Online Marketers That Consistently Generate As Much As $7,678,397 Each Year!!
You Can Get Instant Access To The Whole Thing * ABSOLUTELY FREE! * Just CLICK HERE And Get This No-holds Barred Step By Step Blueprint Stuffed Full Of The Most Ultra Advanced, Job Crushing Techniques That Pump So Much Money Out Of The Internet, You Simply Won't Believe It !"
---
---
---